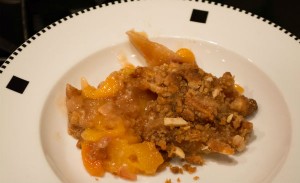 The Summer is flying by.  With graduation, Father's Day, Fourth of July and many other planned barbecues yet to come my culinary skills have been hard at work.  This week I have been working on summer season baking ideas.  Have you heard of the Miette bakery in San Francisco? I had the pleasure of going there on my birthday last year. Located in San Francisco's historic Ferry building,  it is one of my favorites and in 2011 she, I should say,  Meg Ray published her cookbook , Miette recipes from San Francisco's most charming pastry shop.  I decided to bake a batch of the Graham Crackers.  If you enjoy baking, this is an amazing book.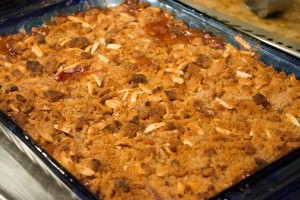 The graham crackers were crisp, melting on your tongue with a brown sugar butter goodness.  I packed them away in a cookie tin so I wouldn't eat more than one at a time. Sunday I had a lot of peaches, so why not make a crisp but put a different twist on it.
I combined crushed graham crackers with flour, slivered almonds, and marzipan for a different crisp topping.  Barbecue some salmon or Chilean sea bass for a dairy dinner this week, take a break from all of that meat and chicken from the 4th of July, and enjoy this buttery crisp for dessert.
This is Miette's Graham Cracker Recipe.
Yield about 24 cookies
1 1/2 cups (7 1/ 2 ounces) all purpose flour
1/3 cup (1 1/2 ounces) whole wheat flour
1/2 teaspoon kosher salt
Generous 1/4 teaspoon ground cinnamon
2/3 cup (6 ounces) unsalted butter, at room temperature
1/2 cup (4 ounces) firmly packed light brown sugar
2 tablespoons honey
1. Sift both flours, salt, and cinnamon into medium bowl, set aside.
2. In bowl of stand mixer fitted with paddle attachment, combine butter, brown sugar, and honey , and beat until fluffy, about 5 minutes.
3. Add dry ingredients to butter mixture in three additions, beating until just combined after each addition.  Wrap dough tightly in plastic wrap and refrigerate for at least 30 minutes before rolling , or up to 2 days.
4. Heat oven to 350°F.  Line a large baking sheet with parchment paper or a silpat.  Remove dough from refrigerator.  Unwrap dough and place between two sheets of waxed paper.  On a clean work surface (easiest to do on a very large silpat), roll out dough to a thickness about 1/4 inch.  Using a scalloped edge cookie cutter, about 3 inches, cut out graham cookies.  Arrange cut outs on prepared baking sheet, placing cookies about 1/2 inch apart.  Bake until golden brown 10 to 12 minutes.  Transfer to a wire rack to cool completely.  They should snap crisply when cooled.
Gather up the dough scraps, reroll and cut out to make more cookies. If dough is too soft chill again before rolling.  Bake as directed.  Store in an airtight container for up to 2 weeks.
For Peach Crisp
Yield about 12 servings
Filling:
12 ripe peaches, mostly peeled, sliced into 1/3 to 1/2 inch slices
2/3 cup light brown sugar
4 tablespoons corn starch
1/2 teaspoon ground cinnamon
1/2 teaspoon grated nutmeg
1 tablespoon fresh lemon juice
Topping:
1 cup crushed graham cookies (crackers)
2/3 cup brown sugar
2/3 cup all purpose flour
1/2 cup crumbled marzipan
6 tablespoons unsalted butter, room temperature
1 tablespoon fresh lemon juice
grated zest from lemon
1/2 teaspoon ground cinnamon
1/2 teaspoon grated nutmeg
1/2 cup slivered almonds  (not sliced but the ones that look like spikes)
Heat oven to 380° F.  Combine all filing ingredients in a large bowl and toss gently.  Pour peach filling into a 9 x 13 glass baking dish. and set aside.
Place all topping ingredients in a medium bowl.  Using your clean fingers, cut in butter and marzipan until mixture resembles coarse pea size bits.
Evenly distribute topping over the top of the peach filling.  Place baking dish on a baking sheet to catch any drips.  Place all in oven.  Bake for about 25 minutes, then, turn down heat to 325°F and bake for another 20 to 25 minutes, until filling is bubbling and topping is golden brown.  If topping is browning too quickly cover loosely with  a sheet of aluminum foil so filling will cook through.
Serve, warm, cold, room temperature, with ice cream, or plain.