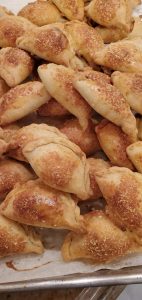 Consumed in great quantities, loved by all, the flaky dough and flavorful fillings beckon you to eat yet another one, the irresistible Boreka.  Boreka may also be spelled Boureka or Bureka. Borekas are usually a savory, but occasionally sweet filled turnover.  There are many kinds of dough and infinite variety of fillings.  Versions can be found in Turkey, in fact Borek is a Turkish word, in Israel, and throughout the Middle East.  Sephardic Jews, or broadly speaking those with Spanish origins, from Turkey and the Greek Island of Rhodes traditionally eat this dairy filled version at holiday lunches along with a long list of other traditional items.  I have many fond memories of this as a child in Seattle.  My borekas are petite and crisp with an intense cheese flavor but not too salty.
Yield 80-84 if you make dough twice
Filling:
1-large Russet baking potato, peeled
14 ounces   Feta cheese, crumbled
10 ounces  Monterey Jack cheese or Cheddar cheese, grated
2 ounces  Kasseri cheese, grated
2 ounces Parmesan cheese, grated
3 extra-large eggs
Dough:
4 cups flour
2 teaspoons salt
1 cup ice cold water
3/4 cup vegetable oil, preferably safflower or sunflower
1 beaten egg for  egg wash
2 ounces Parmesan cheese grated
Heat oven to 400°F.
Slice potato in ¼ inch slices, place in a medium sauce pan with enough water to cover and boil for about 15 minutes or until soft enough to mash.  Drain and mash potato once it is soft enough. While  potato is still hot, add  feta cheese.  Add  other cheeses and use a potato masher to blend.  Then, switch to a wooden spoon and add eggs and mix.  The heat from the potatoes will melt the cheeses, but by the time, you add the eggs they will not cook.  Set aside to cool while you prepare the dough or refrigerate up to one day until you have time to make them.  Filling will stiffen as it cools.
For dough; combine  flour and salt in a medium size mixing bowl.  Whisk  cold water and oil together in a two cup glass measure.  Add  liquid to  flour.  Gather  dough together in a ball with your hands, making sure all is incorporated. Make two batches of dough for this amount of filling.  Dough should be very pliable, yet be able to hold its shape,  and easy to roll out but not sticky.
Separate each batch of dough into 42 walnut size balls.  With your fingers roll  balls until smooth.  Smooth balls roll out easier and create a more uniform boreka. Roll each ball out to about a 3 inches in diameter  using a wooden rolling pin.  Take care not to roll  rolling pin over  edges of your circles or edges will be thin and centers thick.
To assemble borekas; place a tablespoon of filling in center of each circle of dough.  Portion out  filling to accommodate the 84 balls you have made.  Fold the circles into half-moons.  Pinch  edges shut and twist the edge forming a rope design (repulgo).  To achieve the rope edge hold boreka in you left hand, edge side out, using you right thumb and index finger, pinch the left edge of the corner, give a little pull and fold it forward and seal to create the first scallop on the rope.  Repeat as finely as possible across the edge to the right until you have an overlapping sealed edge of scallops.  To complicated? To keep it simple, just seal the edges with the tines of a fork taking care not stretch the edge to thin.
You will need 4 one half sheet baking pans.  Use silpat liners or parchment paper if you like, and save some scrubbing.  Place 21 borekas on each baking sheet (3 columns of seven).  Space them evenly.  Brush each one with egg wash, being careful not get egg on the baking sheet.
Sprinkle with  grated Parmesan cheese.  Bake approximately 15 to 20 minutes or until and golden.  Remove from the baking sheets and place on cooling racks.
BOREKAS may be frozen and reheated.  You can also freeze them before baking single layer on a cookie sheet and later transfer to a zip lock bag when frozen hard.  Bake when needed.