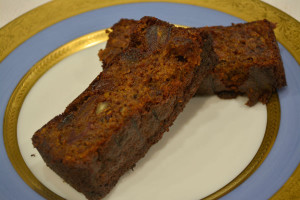 I have decide to revamp some of my favorite recipes to reflect the new trends of tummy friendly things like gluten free, dairy free, and Paleo,without losing any of the great flavor.  This banana cake has a super moist, almost pudding like texture and incredible deep rich flavor.
Yield 2  loafs
1  cup coconut palm sugar
1 cup date sugar
1 cup sunflower oil
2 cups mashed banana (around 4-5 bananas depending on size)
3 extra large eggs
1 teaspoon vanilla
2 teaspoons baking soda
1/2 cup boiling water
4 cups almond flour (from whole almonds with skins)
1/ 2 teaspoon salt
1 cup chopped pecans
1 cup chopped Medjool dates (about 8)
1 cup dried cherries
Preheat oven to 350º F.  Combine first four ingredients in a large mixing bowl and beat with a whisk until well blended.  In a separate small bowl or measuring cup, mix boiling water with baking soda, add this foaming hot liquid to banana batter, and incorporate.
Crack eggs into a small glass bowl or cup, check them, and then add vanilla.  Pour eggs into the banana mixture.  Whisk to combine.
Measure flour and salt in a separate medium size bowl.  Stir flour mix with a fork to blend.  Add flour mix to wet ingredients and stir to blend.  Place all chopped fruits and  chopped pecans in batter and gently incorporate.
Prepare two large loaf tins.  Grease them with cooking spray.  Divide batter into greased loaf pans.  Tamp tins down on the counter to remove any air bubbles that may be lurking.  Place them in preheated oven on middle rack.
Bake about 37 to 40 minutes or until a tester comes out clean.  A tester is a long toothpick inserted into the middle of the cake and withdrawn immediately.  If there are wet crumbs clinging to it the cake is not done.  If it comes out clean, the cake is done.  Cool cake on a rack about 10 minutes, invert pan, and remove loaf.  Then, right the loaf.  It is important to cool cakes on a rack since this allows air to circulate under the pan while it's cooling.  Air circulation results in a better texture.  You can eat it after it is cool, or freeze it for later.  I freeze one and leave one out.