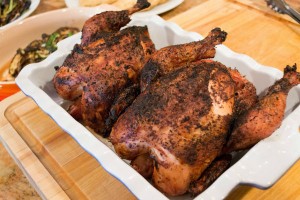 It looks like a gigantic, ceramic, dark green stippled egg with nifty hardware and a navel on top.  These barbecue /grills
have been around ever since I can remember.  One of my friends had one in Seattle when I was in high school. I will  let you guess when that was.
A Kamado grill not only grills but it creates wonderful smoke and fire which imparts meat or chicken with  flavor that speaks to man's primordial urge to be a carnivore as Michael Pollen discusses in his new book  Cooked..  Sorry if this is too graphic for my vegetarian readers.  Well, to say it in plain English, the chicken was incredible.
I used natural charcoal, not briquettes, but something that more resembled the charred pieces of tree branches when I poured it out of the bag to pile in the grill.  I lit the fire the old fashioned way with pieces of cardboard and matches.  The chicken cooked in about an hour or hour and fifteen minutes (depending on size of chicken and temperature of grill) and it was juicy, smoky, tender, and covered in crisp skin worth the calories.
Yield 2 whole chickens for 6 to 10 servings
2 three pound chickens (a little smaller a little bigger doesn't matter)
4 large cloves peeled garlic
4 to 6 tablespoons fresh lime juice
2 to 3 tablespoons sumac
no salt needed with kosher chicken
Remove chicken from packaging.  Remove any large feathers that  might still be on bird.  Remove any large pieces of fat that may be at cavity opening.  Do not wash bird, just pat it dry.  Place each chicken in a zip lock bag and set aside .  Place garlic and lime juice in a small food processor.  Puree.  Divide garlic and lime juice puree equally between bags with chickens.  Seal bags and massage chicken in bag to distribute garlic lime puree. Place chicken in refrigerator for about 4 hours (in the morning).
One hour before grilling, take chicken out of refrigerator.  Make sure Kamado is clean and set up.  Thirty minutes before you want to start grilling, remove cooking grates in barbecue and place chimney where the charcoal goes.  Fill chimney with charcoal, layering with pieces of heavy paper bag or thin cardboard sticking out the holes.  Light paper with long matches.  Open grill vents top and bottom all the way.  Leave grill open for a few minutes until you see some tips of charcoal starting to turn white and you see wisps of smoke starting to appear.  Close lid, with vents open, and let fire develop.  Check after 15 minutes.  If the coals are getting hot, remove chimney and spread coals out.  Let them continue to get hot for another 10 to 15 minutes.  When the barbecue thermometer reads 400°F to 450°F it is time to put grate back in the barbecue. Place a foil drip pan on the second level of grate, directly where the chicken will sit.
Remove chickens from plastic bag and season with sumac. Place chicken on hot barbecue grate over foil drip pan and close lid.  Close vents half way.  You can control temperature of grill by adjusting vents.  Closed kills the fire, open causes fire to heat, so somewhere in between keeps it at 450°F.   Check chicken after about 45 minutes.  When chicken is dark crispy mahogany color and juices run clear the bird is ready.  Let chicken sit for 15 minutes or up to an hour before cutting and serving.